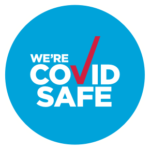 The health and safety of our staff and guests is a core value to us here at Otford Cottage, so we're taking a few extra precautions at the moment to keep everyone safe and well. We would like to reassure everyone that we are following strict health and safety regulations and following the recommendations by the Government very closely.
On arrival
As a condition of entry, all guests must provide their contact details via the Service NSW QR code registration or completing the sign-in form at reception. We welcome fully vaccinated guests.
Service NSW is a free download from the Apple App Store, or Google Play – and you can use the COVID Safe check-in feature without creating an account if you would rather not opt into a MyServiceNSW account (or you're from outside New South Wales) – just provide your name and number and the app will remember it next time you visit a participating venue.